Self-care spaces are an essential part of any home. To recharge and feel at ease, you need areas that genuinely reflect your personality and needs.

So, despite the fact that the term "self-care" can feel as uninspiring as a slice of dry, unbuttered toast, don't be too quick to dismiss it!
Because behind the buzzword lies a truth: as we all began to look at mental health a little more like, well, a priority, the concept of self-care emerged as a powerful reminder for us to tune in more closely to our individual needs. Hence the "self" in self-care.
Self-care is about recharging in the way that suits you best. It's as unique as you are: one person might find solace in a warm bubble bath with nothing but the sound of their own thoughts or gentle piano, while another might prefer to recharge their batteries while banging their head away at a concert.
Self-care is also a shape-shifter. Always evolving, just like us: as we grow, our self-care needs transform. The routine that once worked wonders may no longer suffice, and we must adapt, like swapping out last season's wardrobe for something fresh and new.
Lastly, and most relevant for today's post, is that your home can be sprinkled with pitstops, colours, and scents that help you recharge the moment you walk through your door. And self-care spaces look different from one person to the next (polar opposites, even). Plus, it's important to remember that self-care spaces aren't just limited to one room in your home. You can create them throughout your living space, from cozy reading nooks to soothing gallery walls.
With that in mind, let's dive into ten simple tips to create self-care spaces that help you recharge—whatever that looks like for you.
Color yourself content: Discover the colors that invigorate your spirit, whether it's a soothing blue or a lively yellow. Weave these shades into your home to foster an atmosphere that genuinely resonates with you.
Artistic pit stops: Designate "slow-down zones" in your home for artsy endeavors like painting or journaling, creating personal nooks where you can unleash your inner Picasso or Hemingway or toddler lol.
Comfy hideaways: Curate cozy corners where you can disappear into a page-turner or podcast. Think pillows you want to stroke as if they were cats and cuddly throws.
Reminders of those who lift you up: I never regret printing photos out—whether they're stupidly beautiful photos taken by my friends or my little brother with his cats. Photos of family & friends are a non-negotiable for helping your home feel like you!
Personal touches—stranger the better: Your home should be a veritable gallery of your character, an ode to your idiosyncrasies. Add objects that not only bring you joy, but also reveal a snippet of your narrative, from trinkets passed down by your grandparents to those delightfully weird bookends you picked up at a thrift store. Remember, it's your sanctuary, not a showroom designed to impress the masses.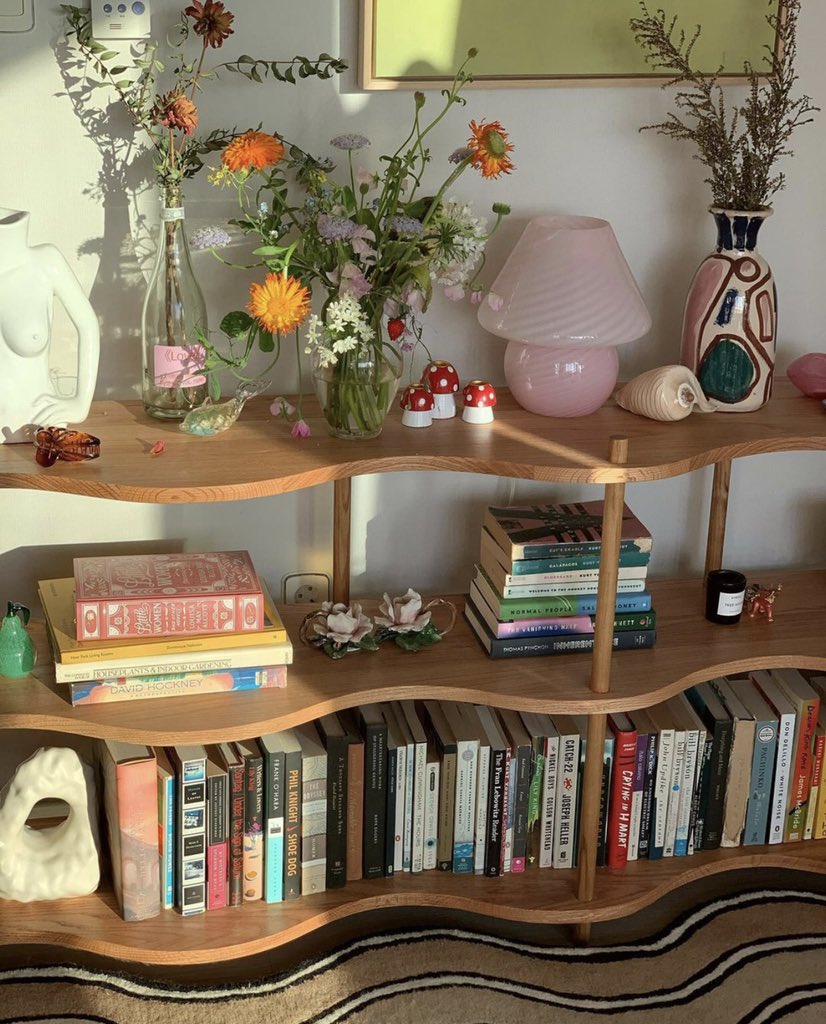 Scents that make you go, "Aaaaaaaaah": We're talking fragrant candles, essential oil diffusers, and, my favourite, blooming florals. Choose scents that bring you back to a moment that lowers your shoulders by a mile.
Embrace the great indoors: Not only do plants purify the air, but they also bring a sense of balance and calm to your surroundings. So go ahead, embrace the great indoors and let nature work its magic.
Illumination on the go: Grab some wireless, dimmable lighting so you can fashion snug retreats throughout your home. I don't think anything is more powerful than warm, cozy lighting to put me at ease.
Clarity through tidiness: Genuinely relaxing in a messy room is impossible. I stand by that. But that doesn't mean your place needs to be like a mental asylum or Kim Kardashian's home in terms of minimalism. Whatever your personal style is, just keep 'er tidy to actually recharge.
Adaptability is key: Lastly, and probably most importantly, your living space should evolve as your self-care needs change. Don't be afraid to mix things up and make modifications that support your overall well-being.
Equipped with these ten little tips, you can shape a home that mirrors your singular style and nurtures your self-care voyage. Keep in mind that the objective is to devise areas that echo your essence and motivate you to adopt self-care habits that leave you revitalized, satisfied, and complete. Venture forth and create a haven that is genuinely yours, my friend!